"Rock N Roll Baby". Zwar nur in Form einer EP oder besser gesagt, eines Minialbums. Aber egal wie man es nennt, das kleine Ding riskiert ne ordentlich Dicke Lippe und die kann sie sich musikalisch auch leisten. Denn die acht Songs auf Bait treten kräftig in den Allerwertesten.
Angefangen bei den sechs neuen Songs, die schön gitarrenlastig und mit starken Vocals aus den Boxen krachen, über das Hendrix Cover Foxy Lady, hin zu einer acoustic Version, die trotz Schrammelklampfe nicht kitschig oder gar lahm klingt.
The Pinpricks sind 100% Rock'N' Roll und authentisch. Kernige Songs mit treibenden Riffs und einer ordentlichen Portion Cojónes machen die Sache ziemlich kurzweilig. Rau und wild geht`s auf Bait zur Sache. Druckvoll und schnörkellos, so wie Rock sein sollte.
Dies liegt zum einen an der eindrucksvollen Rockröhre von Frontfrau Ronja (Vox/Git.), die teils schon mit Janis Joplin oder Sheryl Crow verglichen wurde, und zum anderen an Nils (Bass) und Rico (Drums), die den Songs einen unheimlich satten und kräftigen Sound verpassen.
Alles in allem, ohne noch lange um den heißen Brei herum zu reden: Bait ist ein starkes Referenzwerk der Band, was richtig ab geht und tierisch Spaß macht.
8 von 10 Bängs
Songs:
Cast Off Your Shadow
Get Out
Voices
Million Pieces
Paintless
Two-Wheeler-Blues
Foxy Lady
Get Out (Acoustic)
The Pinpricks are: Ronja Kaminsky (Vox/Git.), Nils Degenhardt (Bass), Rico Kobarg (Drums).
VÖ: März 2020
https://de-de.facebook.com/ThePinpricks/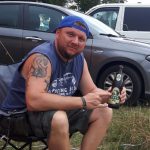 Christian
geb. 1977, Metalfan seit 1989, verheiratet, ein Sohn, Heavy, Death, Thrash und Hardcore. Der Fachmann, wenn es um Bands geht, die aus Ländern kommen, deren Namen die meisten nicht mal kennen.