Christian "Speesy" Giesler (ex Kreator), Jeramie Kling (Venom Inc, Massacre, The Absence), Taylor Nordberg (Massacre, The Absence), und Brain Stephenson (Old James, Skull Fist). Wenn man diese Namen der internationalen Hartwurstszene liest, könnte man annehmen das mit Hombres etwas aus den Boxen hämmert, was in Richtung Death- oder Thrash Metal geht. Ich hätte mich ja noch überreden lassen, anhand des Covers, welches ein wenig an Deep Purple (In Rock) erinnert, dass die Retro Rock Schiene bedient wird. Ich hätte aber im Leben nicht damit gerechnet das hier eine lupenreine Punk Scheibe zum Vorschein kommt.
Und was da kommt, klatscht so herrlich in die Fresse. Fun Punk, Skate Punk, egal wie man es nennen mag. Die Songs kurz und schnell. Sie rocken so herrlich leicht und unkompliziert aus den Boxen, dass einem sofort die Knochen jucken. Bewegung ist angesagt. Mit jeder Menge Ohohs, Ahahas, Mitgröhlrefrains und gängigen Melodien kommt gleich Schwung in die Sache. Damit man aber nicht fest fährt, gar eintönig wird, werden hier und da ein paar kernige Thrash Riffs eingestreut. Speedmäßig wird das Gaspedal konsequent nach unten getreten, was der Sache sehr gut tut. Noch ein paar Hardcoreartige Shouts und alles ist nahezu perfekt.
8,5 von 10 Bängs
Fore are:
Jeramie Kling, Taylor Nordberg, Christian "Speesy" Giesler, Brain Stephenson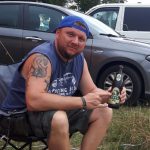 Christian
geb. 1977, Metalfan seit 1989, verheiratet, ein Sohn, Heavy, Death, Thrash und Hardcore. Der Fachmann, wenn es um Bands geht, die aus Ländern kommen, deren Namen die meisten nicht mal kennen.