Die Termine waren gesetzt, die Freude groß, diverse Dehnübungen absolviert. Es hätte "DER" Jahresabschluss werden können. Am 04. Dezember, Settle For More, das erste Album von Eyes Of Tomorrow und am 30. Dezember die ganze Chose live und in Farbe. Aber was nicht ist, wird bestimmt, und bis dahin das Album in Dauerschleife. Eyes Of Tomorrow steigen auf Settle For More sofort ein und knallen uns authentischen Oldschool Hardcore um die Löffel. So wie es sich gehört, rotzig, rustikal und mit sehr viel Groove. Die hardcoretypischen Mitsingparts, kräftige, teils aggressive Shouts und Mid-Tempo Passagen sind ausreichend vorhanden. Ein wenig Oi und Thrash machen die Sache frisch, weswegen man sofort eine kleine Runde eskalieren möchte. Überhaupt gehen die Songs prima ins Ohr und haben gleich dieses gewisse Etwas. Straight nach vorne, ohne große Verrenkungen, dahin, wo es ein wenig weh tut. Angemessene Härte, griffige Riffs und scharfe Breaks sorgen da für jede Menge Fun.
Ohne noch groß rum zu labern, das Ding macht einfach Spaß und wird auch nach mehreren Durchgängen nicht langweilig. Ich klopp noch mal die Höchstpunktzahl raus und definitiv werde ich diese Scheibe live erleben.
10 von 10 Bängs.

Band:
Chris – Bass
Adam – Drums
Dom – Gitarre
Mirko – Vocals
VÖ: 04.21.2020
(2) Eyes of Tomorrow | Facebook
(2) Swell Creek Records | Facebook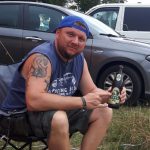 Christian
geb. 1977, Metalfan seit 1989, verheiratet, ein Sohn, Heavy, Death, Thrash und Hardcore. Der Fachmann, wenn es um Bands geht, die aus Ländern kommen, deren Namen die meisten nicht mal kennen.