Die Düsseldorfer Urgesteine Elmsfire präsentieren uns auch auf ihrem neuesten Streich Heavy Metal der alten Schule. Die Wechsel im Line Up (am Mikro und an den Drums) haben der Band nicht geschadet.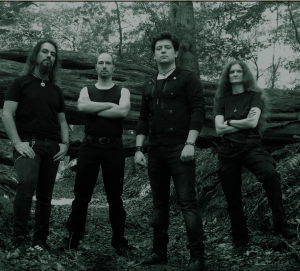 Allerdings muss ich auch da gleich mal Kritik loswerden. Die Stimme von Bobby, die bei mittleren Passagen eine gute Figur macht, wird, wenn es in höhere Gefilden geht, etwas dünn, was dem ansonsten guten Songs schadet.
Die Stärken der Band liegen ohnehin in den ruhigeren Passagen, wie man bei der Powerballade Killer of Giants und dem maidenartigen Galopper Cryonics hören kann. Der Rest des Albums beinhaltet gute Nummern wie Drop Dead, das sich leider mit Füllmaterial wie Maelstorm einen Tonträger teilen muss.
Handwerklich kann man Elmsfire nicht viel vorwerfen, an den Drums haben sie mit Martin einen Glücksgriff gemacht. Und auch Germano und Doro machen an den Seiteninstrumenten eine gute Figur. Man hört durchaus die langjährige Erfahrung, die die seit 1999 bestehende Band mit sich bringt.
Kommen wir zum Fazit: Wings of Reckoning ist ein stellenweise langweiliges Album, das aber immer wieder mit guten Songs um die Ecke kommt, wenn man es nicht mehr erwartet. In dem Fall bin ich froh um die Erfindung der Skiptaste am CD Player. Ich gebe der Platte 6,5 von 10 Bängs.
Das Album erscheint Mitte Juli.
Tracklist:
El Murcie/Clago de la Muerte
Camazotz
Croghan
Maelstrom
Monologue (Harlock)
Leviathan
Killer of Giants
Drop Dead
The Conjunction
Rise from Tartarus
Cryonics
Mouth full of sand
Phenomena
Line Up:
Bobby – Gesang
Doro – Gitarre und Bass
Germano – Gitarre und Bass
Martin – Drums
Schlagwörter:
Album Review
,
booby
,
Doro
,
Düsseldorf
,
Elmsfire
,
germano
,
Heavymetal
,
ironmaiden
,
judaspriest
,
martin
,
NewAlbum
,
wingsofreckoning
Christian B
Ich höre alles von traditionellem Heavy Metal, Black, Death, Trash, Folk. Power über Punkrock und was es sonst noch so alles gibt, gut muss es halt sein. Bei was es mir allerdings die Zehennägel aufstellt ist langweiliger Prog wie in Dream Theater, Queensrÿche, Opeth und co. zelebrieren. Da schlafe ich schlichtweg ein.