Trauma? Trauma? Irgendwie wollte bei der Band nix klingeln. Interessant wurde es für mich, als ich die Band Info las. Cliff Burton war ein Gründungsmitglied der Band, der aber schon vor dem Debüt, in Richtung Metallica abwanderte. Wenn man jetzt eins und eins zusammen zählt, Cliff Burten, San Francisco, 80iger Jahre, müsste ja eigentlich was ziehmlich cooles raus kommen.
Ist es meiner Meinung nach auch. Nach dem 84iger Debüt Scratch and Scream, einer Bandauflösung, dauerte es ja nur knapp dreißig Jahre bis 2015 der Nachfolger Rapture and Wrath folgte. Jetzt legen Trauma im Februar 2019 über Pure Steel Records ihr nächstes Album nach.
Was erwartet uns nun auf As The World Dies?
Meiner Meinung nach grundsolider US Metal, leicht thrashig angehaucht. Hoher, melodischer und kraftvoller Gesang. Einprägsame Riffs und moderner Sound. Die Songs halten komplett das hohe Nieau und werden an keiner Stelle Langweilig. Man merkt dem Album an, dass hier mit sehr viel Erfahrung gearbeitet wurde.
Alles in allem, eine recht runde Sache, bei der man ruhig alle zwei Ohren riskieren kann. Für Fans des US Metals sowieso. Trauma haben es mit As The World Dies geschafft, zeitlose gut Musik zu schreiben.
Dafür 8 von 10 Bängs
Das gute Teil erscheint am 15. Februar über Pure Steel Records.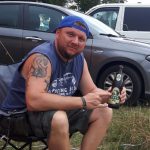 Christian
geb. 1977, Metalfan seit 1989, verheiratet, ein Sohn, Heavy, Death, Thrash und Hardcore. Der Fachmann, wenn es um Bands geht, die aus Ländern kommen, deren Namen die meisten nicht mal kennen.