Da bei mir momentan die ganze Hardcore/Punk Geschichte hoch im Kurs steht, kam mir das Debütalbum von The Take gerade recht.
Fallen sie doch mit ihrem selbst betitelten Album genau in mein Beuteschema. Man könnte auch sagen The Take sind eine kleine Supergroup, bestehend aus Will Shepler (ex Madball, Agnostic Front) Drums, Carlos Congote (ex Urban Noise) Bass und Scott Roberts (ex Biohazard, Spudmonsters) Vocals/Guitar.
The Take kommen, welch Überraschung, aus NYC und spielen knochentrockenen Streetpunk, bei dem eine grobe Hardcore/Rock`n Roll Kelle mitschwingt.
Vor allem Scott`s Reibeisenröhre passt da wie Arsch auf Eimer und gibt den Songs eine besondere Note.
Musikalisch legen The Take ihre Songs auf die sichere Bank. Streetpunk Hymnen, bei denen man mal wieder so richtig mitgrölen kann, schnellere Nummern einfach mal nur zum abgehen oder den einfachen Punkrocker zum genüsslichen Hören.
Erschienen ist das Werk am 28.06.2019 und ab August gehts dann auf Europa Tour.
Alles in allem eine runde und abwechslungsreiche Scheibe, die gut ins Ohr läuft.
Deshalb von mir 8 von 10 Bängs

The Take – Germany 2019
21.08.19 Essen – Don`t Panik
22.08.19 Halle – VL
23.08.19 Hamburg – Monkeys
24.08.19 Dresden – Hecht Fest
26.08.19 Oberhausen – Turbinenhalle
09.11.19 Untererthal – Stäbruch Festival
Tracklist:
1. The Skins are out Tonight
2. Class War
3. Elitist
4. Place the Blame
5. No Tolerance
6. People Like You
7. Revolution Now
8. Tits on a Bull
9. King of the World
10. Dead to Me
Schlagwörter:
Agnostic Front
,
Biohazard
,
Debutalbum
,
Hardcore
,
Madball
,
NYC
,
Rock`n Roll
,
Spudmonsters
,
Streetpunk
,
The Take
,
Urban Noise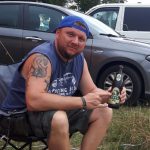 Christian
geb. 1977, Metalfan seit 1989, verheiratet, ein Sohn, Heavy, Death, Thrash und Hardcore. Der Fachmann, wenn es um Bands geht, die aus Ländern kommen, deren Namen die meisten nicht mal kennen.