Nach vier Jahren melden sich Sick Of It All mit Wake The Sleeping Dragon zurück.
Das es die New Yorker Hardcore Veteranen nach 32 Jahren Bandgeschichte immer noch drauf haben, beweisen sie auf ihrem neuesten Album sehr eindrucksvoll.
Langeweile oder Eintönigkeit kommen bei diesem Album auf keinen Fall auf. Die 17 Songs sind abwechslungsreich und machen Spaß. Die Gebrüder Koller und Kollegen bieten da eine Mischung aus Oldschool-, Newschool Hardcore und ein wenig Punk. Dabei kann die Band eigentlich nichts falsch machen.
Gelegentlich wird auch ein mal ein fettes Thrash Metal Riff darunter gemischt, was das Ganze abrundet. Meine Anspieltipps sind: That Crazy White Boy Shit und To The Wolves.
Als Fazit bleibt zu sagen, NYHC 4 LIFE. Wake The Sleeping Dragon ist ein Album das mehr als Spaß macht, und der Beweis, dass Sick Of It All, nach 12 Alben nicht zum alten Eisen gehören.
Absoluter Pflichtkauf für Hardcorefans! Ich vergebe 9 von 10 Bängs.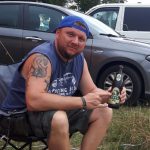 Christian
geb. 1977, Metalfan seit 1989, verheiratet, ein Sohn, Heavy, Death, Thrash und Hardcore. Der Fachmann, wenn es um Bands geht, die aus Ländern kommen, deren Namen die meisten nicht mal kennen.