Screamer (nicht zu verwechseln mit der gleichnamigen US Band) wurden 2009 im schwedischen Ljungby gegründet und haben sich klassischen Heavy Metal mit viel Gespür für gute Melodien auf die Fahne geschrieben. Eine Rezeptur, die schwedische Bands wohl besonders gut beherrschen, man denke da an Formationen wie Hammerfall, Wolf, Enforcer oder RAM. Das Debütalbum "Adrenaline Distractions" (2011) und die beiden Nachfolger (2013 und 2017) wurden vom deutschen Label High Roller veröffentlicht. Mit dem schwedischen The Sign Records steht nun ein neues Label an der Seite der Skandinavier, um Screamer mit ihrem vierten Album "Highway Of Heroes" auf ein neues Level zu heben.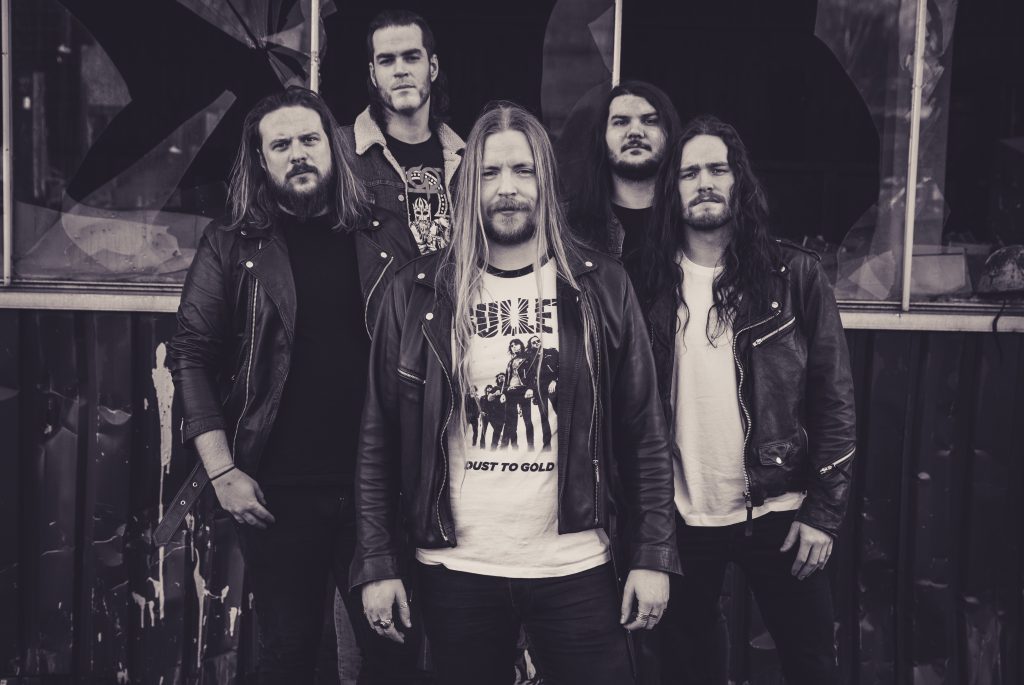 Das kurze instrumentale Intro des Albums steht in bester Tradition der klassischen Heavy Metal Scheiben der 80er Jahre, bevor der Opener "Ride On" die Marschroute vorgibt. Powervoller, melodischer Heavy Metal mit einer Kombination aus geradlinigen Chören, Gitarrenharmonien im Stil von Iron Maiden oder Thin Lizzy on speed und dem hämmernden Beat der Doublebassdrum der auch Judas Priest gut zu Gesicht steht. Dazu kommt Sänger Andreas Wikström, der mit seiner angenehm rauen und doch melodischen Stimme das Gebräu hervorragend abrundet. Alle zehn Songs, die selten die Vier-Minuten-Marke überschreiten, können das hohe Niveau mühelos halten, mit "Sacrifice" steht sogar ein echter Ohrwurm auf der Scheibe. Der Titeltrack "Highway To Heroes" ist ein Paradebeispiel für melodische singalong-Refrains der Extraklasse und sprüht vor positiver Energie. Etwas deftiger brät der doublebass Banger "Halo" aus den Lautsprechern. Songs wie diesen habe ich auf der letzten Enforcer Scheibe stark vermisst.
Mit ihrem vierten Album haben Screamer in meinen Augen die direkten Konkurrenten Enforcer oder auch RAM, deren aktuelles Album für mich eher enttäuschend ist, klar hinter sich gelassen. "Highway Of Heroes" wird sich auf meiner Anlage noch etliche Male drehen und könnte in meine Top Ten des Jahres Einzug halten. Dafür gibt es hochverdiente 9/10 Bängs
SCREAMER – "Highway Of Heroes" Label: The Sign Records Release date: 11. Oct. 2019
TRACKLIST: 1. Intro (1:11) 2. Ride On (3:27) 3. Shadow Hunter (3:07) 4. Rider Of Death (3:41) 5. Sacrifice (4:40) 6. Halo (4:17) 7. Highway Of Heroes (3:44) 8. Out Of The Dark (3:22) 9. Towers Of Babylon (2:55) 10. Caught In Lies (5:01)
LINE-UP: Andreas Wikström – Vocals, Anton Fingal – Guitar, Dejan Rosić – Guitar, Fredrik Svensson Carlström – Bass, Henrik Petersson – Drums
Kontakt:
https://www.facebook.com/wearescreamer
http://wearescreamer.com
https://www.facebook.com/thesignrecords
SCREAMER – TOURDATES: 01.11.19 DE – Hamburg, Bambi Galore 02.11.19 NL – Nijverda, Cult Art Club 03.11.19 DE – Kassel, Goldgrube 05.11.19 DE – Leipzig, Mørtelwerk 06.11.19 DE – Prague, Club007 07.11.19 AT – Wien, Escape 08.11.19 AT – Linz, Kapu 09.11.19 AT – Dornbirn, Schlachthaus 10.11.19 DE – Göppingen, Zille 11.11.19 BE – Bree, Ragnarock 12.11.19 DE – Saarbrücken, Studio 30 13.11.19 DE – TBA 14.11.19 DE – Münster, Rare Guitar 15.11.19 DE – Mannheim, MS Connection 16.11.19 DE – Koblenz, Florinsmarkt 23.11.19 SE – Gislaved, Crash Course Club 29.11.19 SE – Göteborg, The Abyss 30.11.19 SE – Örebro, Watt
Michael
Baujahr '67. Metalhead seit 1979. Musikalische Vorlieben: NWOBHM, Power Metal, Epic Metal, Bombast Metal, Doom, Melodic Death Metal, Alternative Rock, und alles dazwischen, Hauptsache es ist authentisch! Michael ist unser "wandelndes Musiklexikon". Es gibt nichts, was er nicht weiss. Wahrscheinlich sogar die Anzahl der Leberflecke von Elvis´ verstorbenen Zwillingsbruder Aaron!