Events
NOT IN CONCERT – Video Stream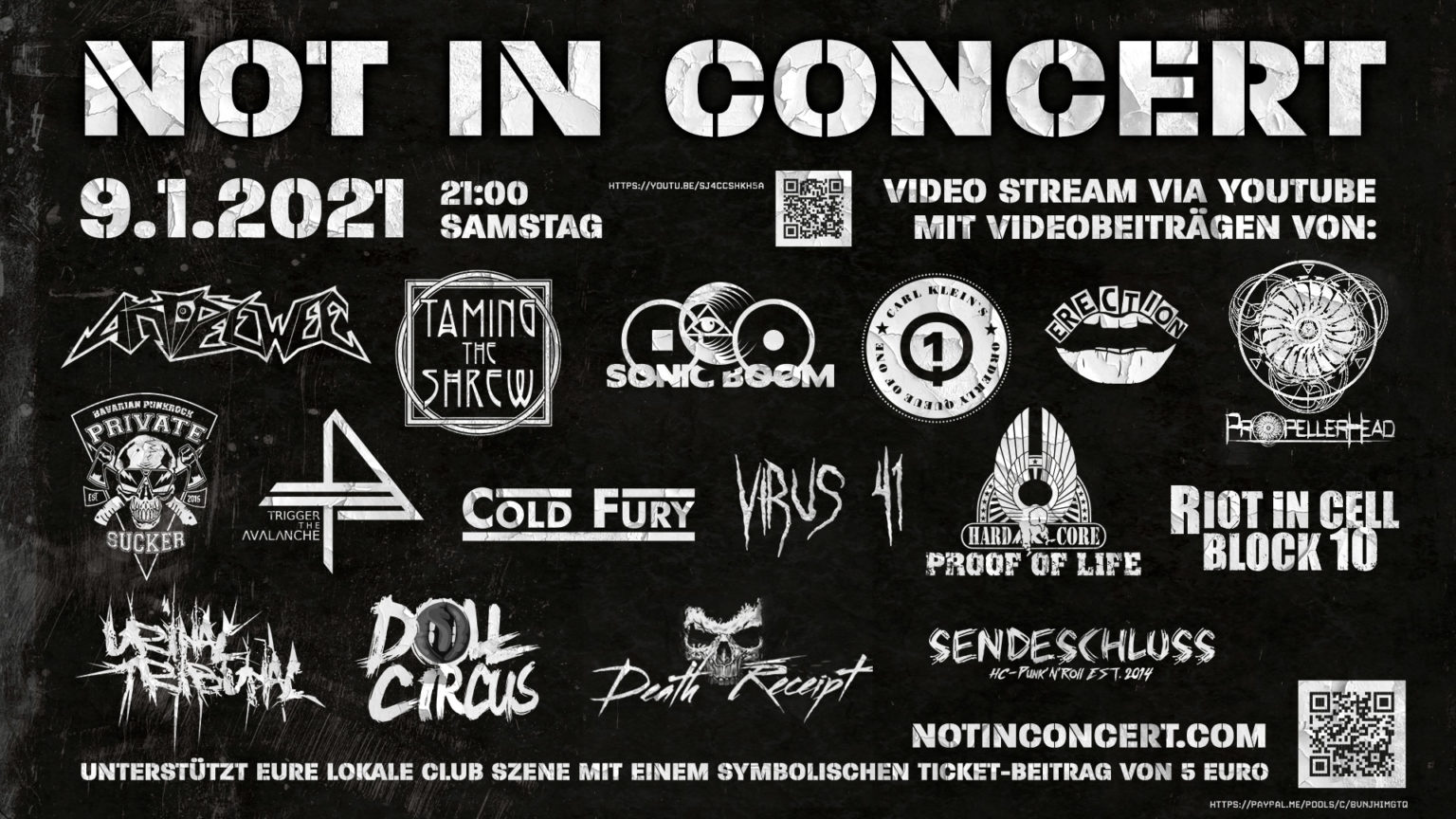 Genre: bunt gemischt
Wer am Samstag, den 09.01. noch nichts vorhat, "junge" unverbrauchte Bands kennenlernen will, und diese vielleicht auch noch unterstützen will, kann an besagtem Datum drei Fliegen mit einer Klappe schlagen.
Insgesamt gibt es 16 Bands zu bestaunen, die, wenn ich richtig informiert bin, alle aus dem Südbayrischen Raum kommen. Vom Punkrock, über Death Metal bis zum Metalcore ist alles dabei, fast wie bei einem richtigen Festival.
Der Stream wäre um 21:00 auf https://www.youtube.com/watch?v=sJ4cCShkh5A zu finden. Anschauen kann man sich das ganze Spektakel für Lau, es gibt aber auch ein Spendenkonto. Die würden dann dem L.A.Cham (einer kleinen und feinen Konzertlocation) zu Gute kommen.
Wer hier https://paypal.me/pools/c/8vnjHiMgtQ fünf Euro hinterlässt bekommt nach dem Stream einen Download Link wo es als Anreiz Songs der beteiligten Bands zum abgreifen gibt.
Alle Infos findet ihr unter: https://notinconcert.com/?fbclid=IwAR37XvOaoINKCz7LlVg0TtwGYVczcK-aoKKZaJwYJbXKty_wH9afoN8iHho
Beteiligt sind:
Erection
Urinal Tribunal
Doll Circus
AntiPeewee
Taming the Shrew
Private Sucker
Proof of Life
Carl Klein's Orderly Queue of One
Virus 41
Sonic Boom
Riot In Cell Block 10
Sendeschluss
Trigger The Avalanche
Cold Fury
Propeller Head
Death Receipt
Christian B
Ich höre alles von traditionellem Heavy Metal, Black, Death, Trash, Folk. Power über Punkrock und was es sonst noch so alles gibt, gut muss es halt sein. Bei was es mir allerdings die Zehennägel aufstellt ist langweiliger Prog wie in Dream Theater, Queensrÿche, Opeth und co. zelebrieren. Da schlafe ich schlichtweg ein.