Es gibt Neues zu berichten aus dem Big Apple. Kings Never Die hauen ihre erste EP raus und wie könnte es anders sein, es handelt sich um eine lupenreine Hardcoreband. 2018 gegründet und dennoch kein Newcomer. Verdienten sich die Bandmitglieder unter anderem bei Dog Eat Dog oder Murphy´s Law in der Vergangenheit ihre Sporen.
Musikalisch werden sie in der Szene bestimmt einige Wellen schlagen. Knüppelt man sich doch auf angenehmster Weise durch die vier Tracks. Mitsingparts, fette Gitarrenriffs, laut, roh und wild. So, wie es sein sollte.
Dylan Gadino und Dan Nastasi spielen sich gesangstechnisch den Ball zu und schaffen es, damit sehr abwechslungsreich zu klingen. Ansonsten besinnt man sich auf alte Tugenden und macht, was man am besten kann, Hardcore mit fetter Punk Schlagseite.
Das Rad wird hier sicherlich nicht neu erfunden, muss es aber auch nicht. Die vier Tracks machen einfach nur Spaß und animieren zu leichten Pogo Einlagen im heimischen Wohnzimmer.
Deshalb gibt´s von mir 8 von 10 Bängs.
TRACKLIST: 1.Before My Time 2.Never Know What You Might Find 3.Raise A Glass (feat. Vinnie Stigma and Mike Gallo of Agnostic Front) 4.The Juice
Line Up: Dylan Gadino – Vocals, Dan Nastasi – Guitar / Vocals,  Larry "The Hunter" Nieroba – Lead Guitar, Jay Kalfin – Bass, Steve Gallo – Drums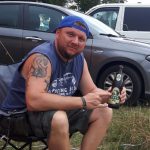 Christian
geb. 1977, Metalfan seit 1989, verheiratet, ein Sohn, Heavy, Death, Thrash und Hardcore. Der Fachmann, wenn es um Bands geht, die aus Ländern kommen, deren Namen die meisten nicht mal kennen.