Thormesis are back! Die fleißigen süddeutschen Schwarzheimer bescheren uns Ihr sechstes Studioalbum, welches nicht nur nahtlos an das starke letzte Album "Trümmerfarben (2017)" anknüpft, sondern eine weitere Entwicklung der Band aufzeigt.
Die zumeist deutschsprachigen Texte überzeugen mit starkem Songwriting und ausgeprägten Melodien, die sich sofort im Kopf festsetzen. Ihre Pagan Wurzeln sind nur noch in den Gesangspassagen zu erkennen. Musikalisch überzeugen die Jungs mit einer Mixtur aus Post Rock / Black Metal Elementen gewürzt mit einer Prise Blastbeats und abgeschmeckt mit feinen Piano Einlagen. Der Hörer kann auf jeden Song gespannt sein, weil diese abwechslungsreich und nicht vorhersehbar sind.
"The sixth" ist am 08.03.2019 über MDD erschienen und kann auch dort erworben werden:
Thormesis – The Sixth (MDD)
Fazit: Mit diesem Album haben die Jungs Ihre Mitte gefunden und sollten auch in Zukunft dort weitermachen, wo Sie mit "The sixth" aufgehört haben. Es ist der bisherige Höhepunkt Ihrer Bandhistorie. Als Anspieltipps könnte ich jeden Song nennen, allerdings stechen Momentan "Thy morbid drunken Ways" und "Deadned Skies" besonders hervor. Für diesen musikalischen Hochgenuss vergebe ich astreine 9/10 Bängs
LINE-UP
Travos – all instruments, songwriting
O. D. – drums, songwriting
Velsir – vocals, guitar
Horus – bass
DISCOGRAPHY
The Sixth (2019 MDD)
Trümmerfarben (2017 MDD)
Freier Wille – Freier Geist (2015 MDD)
Von Leere und Tod (2012 AFM Rec)
Vergangene Asche (2010 Düsterwald)
Gehet hin und kämpfet (2008)
https://www.facebook.com/thormesisofficial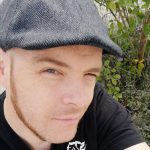 Frank
41 Jahre jung, Lauscher der härteren Klänge seit 1993, im extremen Genre zu Hause, insbesondere Death-, Black- und Thrashmetal in all seinen Facetten. Dass er als Deutscher, zusammen mit Adriana, einer Vorarlbergerin, in Wien für uns unterwegs ist... Ist halt Schicksal. Macht aber Spass!