Neues aus dem Hause Frederiksen. Genau der Lars Frederiksen. Bekannt durch Bands wie Rancid und Lars Frederiksen & The Bastards, Tätowierer, Produzent und vieles mehr, hat was neues am Start.
The Old Firm Casuals mit ihrem neuen Album Holger Danske. Nach dem 2014 This Means War erschienen ist, kommt nun am 15.03 2019 Holger Danske auf den Markt.
Holger Danske ist ein klassisches Punk Rock Album, um genau zu sein Streetpunk nach britischen Vorbild.
Schon der erste Song "Get Out Of Our Way" ist eine Ansage.
Melodisch, eingängig, aggressiv und einergiegeladen. Auf diesem Niveau bewegt sich das ganze Album.
Der rohe Gesang von Lars rundet die ganze Sache ordentlich ab. Die 12 Songs sind nicht zu überladen und es macht sich ein gewisser Garagenflair breit.
Man merkt dem Album an, dass hier Wert auf Authentizität gelegt wird und das die Songs live funktionieren. Was auf der letzten Tour bereits bewiesen wurde.
Fazit: Für mich, als nicht der größte Punk Rock Fan, ist das Album eine runde Sache. Die Scheibe macht Spaß, ist Abwechslungsreich und wird einige Runden in meinem Player drehen.
Von mir gibt's 8 von 10 Bängs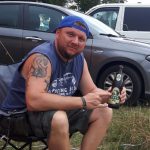 Christian
geb. 1977, Metalfan seit 1989, verheiratet, ein Sohn, Heavy, Death, Thrash und Hardcore. Der Fachmann, wenn es um Bands geht, die aus Ländern kommen, deren Namen die meisten nicht mal kennen.