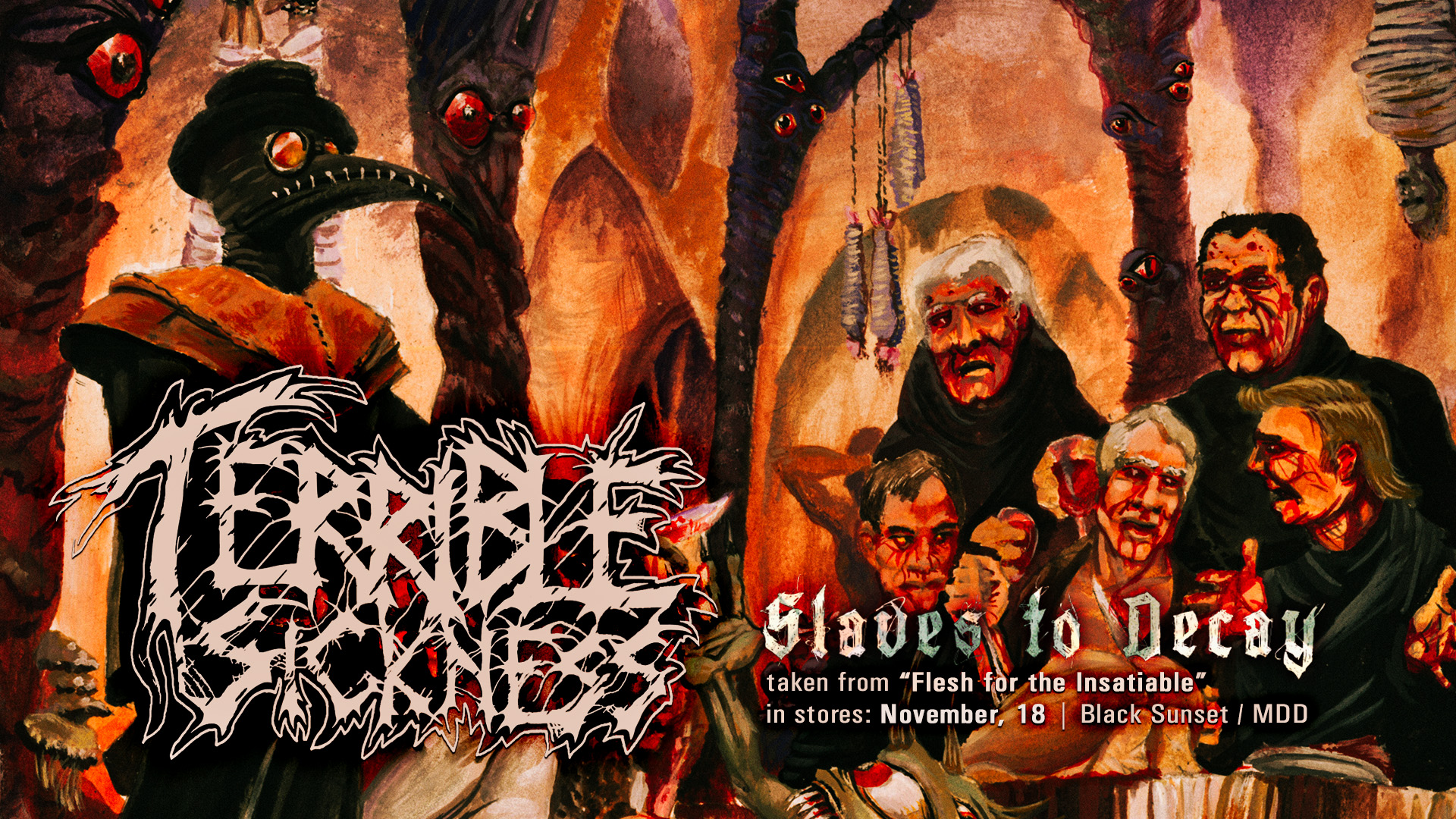 Am 18. November erscheint mit "Flesh for the Insatiable" das dritte Album des niedersächsischen Abrisskommandos von TERRIBLE SICKNESS durch Black Sunset/MDD! Als erste Kostprobe aus dem Album gibt's ab sofort mit Slaves to Decay ein Lyricvideo auf dem MDD Youtube Kanal:
"Flesh for the Insatiable" bietet euch elf allerfeinste, vom 90er-US-Death Metal inspirierte, Blast-Beat-Hymnen. Gleich bei mehreren Songs gab sich zudem Martin Matzak von den deutschen Old-School-Death Metal-Monstern Torchure die Ehre ein paar Gastvocals beizusteuern. Die komplette Tracklist des Albums findet ihr anbei!
Tracklist:
1. Carnage
2. Living Disembowelment
3. Winds of Extinction
4. Crown of Discreation
5. Slaves to Decay
6. Bloody Guts
7. Dethroned Immortality
8. Revenge
9. Voracious Persecutor
10. Putrid Infection
11. Feeding Fatal Fairies (Defleshed Cover)
Vorbestellen:
MDD: http://mdd-records.de/terriblesickness
AMAZON: https://amzn.to/3CXI4Ql
Links:
http://www.terrible-sickness.de/
http://terriblesicknessofficial.bandcamp.com/
http://facebook.com/TerribleSickness.Official/
Dennis
95er Jahrgang. Hört so ziemlich alles über Metal, Rock, Post-Punk und New Wave. Dennis ist vorwiegend für die News zuständig, schreibt aber auch mal die ein oder andere Review.