Die dänischen Waidmänner von ROYAL HUNT blasen am 18.12.2020 wieder das Jagdhorn. Mit Dystopia, einem Konzeptalbum mit Auftritten einer namhaften Riege an Gastsängern (Mats Leven (Candlemass, Krux, TSO, Skyblood), Mark Boals (Y.J. Malmsteen, Ring of Fire), Henrik Brockmann (Royal Hunt, Evil Masquerade, N'Tribe), Kenny Lubcke (Narita, Zoser Mez) und Alexandra Andersen (Royal Hunt, JSP) veröffentlicht die Band via North Point Productions ihr mittlerweile 15. Album.
'The Art Of Dying' präsentiert sich als getragenes, symphonisches Musikstück, in dem sich DC Cooper den Gesang mit Mats Leven teilt. Grossartig intrumentiert und vorgetragen, hervorragend produziert weckt der Song das Interesse auf das bald erscheinende Album.
Für dieses Waidwerk gibt es 8 satte Bängs! Halali!
Band:
André Andersen – keyboards
DC Cooper – vocals
Andreas Passmark – bass
Jonas Larsen – guitars
Andreas HABO Johansson – drums
SocialMedia:
www.instagram.com/royalhuntmusic
https://www.northpoint-productions.com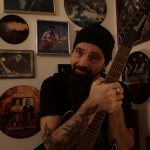 Michl
Seit Oktober 2019 beim Team. Musikalische Vorlieben: vom NWOBHM über Metal der Göteborger Schule bis hin zu Progrock und Progmetal und natürlich auch Rock in allen seinen Facetten. Spielt in 2 Bands Drums (naja), Gitarre (pfff...) und grunzt manchmal auch vor sich hin. Spricht fließend Drunken Gibberish.