19.10.2019 – Bonn, Harmonie – JUST CAN´T GET ENOUGH

Remode aus Bielefeld ist die angesagteste Depeche Mode Tributeband aus Deutschland. Keine andere Band reicht so nah an die Jungs aus Basildon heran, wie diese. Konzerte sind teilweise lange im Voraus ausverkauft. Am 19.10.2019 waren sie in der Harmonie in Bonn zu Gast. Es gab noch einige wenige Karten an der Abendkasse, aber spätestens bei Konzertbeginn dürfte das Haus voll gewesen sein. Bei muckelig warmer Raumtemperatur kam wohl jeder bei der über zwei Stunden dauernden Show ordentlich ins Schwitzen. Das bunt gemischte Publikum klatschte, tanzte und sang textsicher Hit für Hit mit.  Just can´t get enough galt an diesem Abend scheinbar für Publikum und die Band um Gründer und Mastermind Johannes Makowski. Depeche Mode gab es per Videoleinwand und Remode spielte unter anderem Black Celebration, Wrong, It´s no good, Precious, Strangelove, Policy of truth, Little 15, Shake the disease, Somebody (Solo  Michael Antony Austin), Behind the Wheel/Route 66, People are People, Master & Servant, A Question of Time, Walking in my Shoes, Everything counts, Personal Jesus, New Live, Photographic und Never let me down again als vorerst letzten Song. Das Publikum forderte Zugabe und Vic Chains hämmerte ein knapp 5 Minuten dauerndes Solo auf Trommeln und Becken.  Es folgten Just can´t get enough und Enjoy the Silence.  Nach der Verbeugung gab es noch einen letzten musikalischen Nachschlag von Dan Yell und Michael Antony Austin – bis das aufflammende Saallicht das endgültige Ende der Show ankündigte. Nach dem Konzert standen die Musiker noch lange für Gespräche, Autogramme und Fotos mit alten und neuen Fans zusammen.
Gesang: Dan Yell
Keyboard & Gesang: Michael Antony Austin
Gitarre: Johannes Makowski
Bass: Lorenz Alich
Schlagzeug: Vic Chains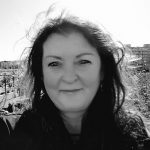 Karina
Karina ist für uns an Rhein und Ruhr unterwegs. Sie hört neben Metal auch Irish Folk Punk, Deutsch- und Mittelalterrock. Für gute Musik ist ihr kein Weg zu weit.