Konzert Reviews, News
Pussies on the Dancefloor und Bürokratic Monsters "Abstandskonzert" im Backstage München – Konzertreview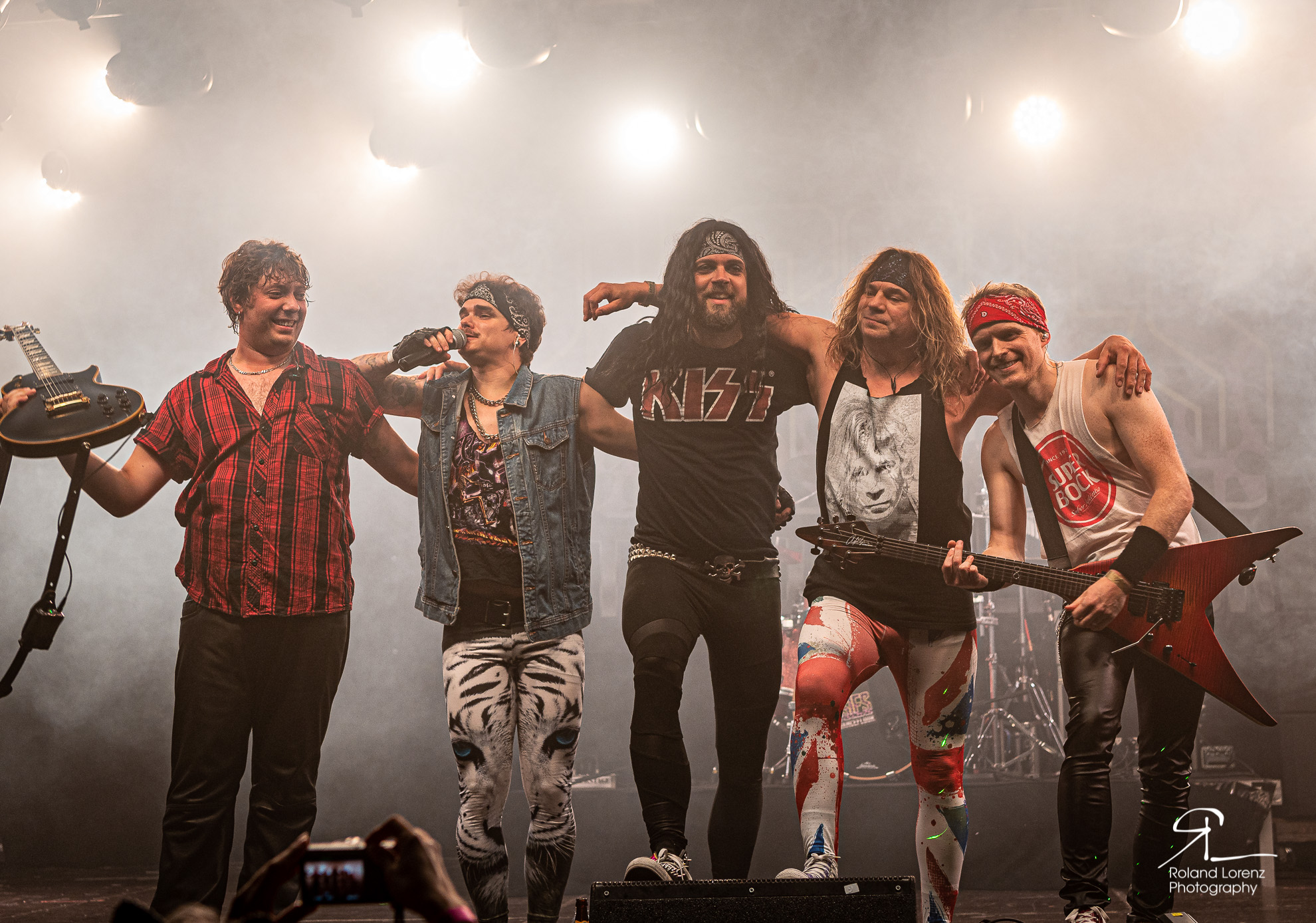 Letzten Samstag war ich wieder einmal bei einem Abstandskonzert im Backstage. Bei den Abstandskonzerten werden in der großen Halle, dem Backstage Werk, in den vorgeschriebenen Abständen Biertische aufgestellt, um unter den aktuellen schwierigen Umständen wenigstens kleinere live Konzerte abzuhalten. Eingeladen hatte diesmal die Glam Metal Band Pussies on the Dancefloor aus München.
Eröffnet wurde der Abend von der Hard Rock Band Bürokratic Monsters, ebenfalls aus München. Ich muss gestehen, dass ich bis dato diese Band noch nicht auf dem Schirm gehabt habe und wurde sehr angenehm überrascht. Das war Rockmusik, wie es besser nicht sein konnte. Hart, erdig ohne Schnörkel aber durchweg abwechslungsreich. Harry, ihr Leadsänger an der Rhythmus Gitarre, überzeugte mit seinem kraftvollen Gesang, unterstützt von Jan an der Lead Gitarre, Phil am Bass und Fabian an den Drums. Ich denke, da wird demnächst ein Interview fällig, um euch die Band näher vorzustellen.
Dann wurde es Zeit für die Headliner des Abends und die Pussies on the Dancefloor kamen mit ihrem schrillen Outfit auf die Bühne. Während die Band in früheren Zeiten hauptsächlich Cover-Songs gespielt hatte, haben sie sich inzwischen kräftig weiter entwickelt und präsentierten ein Feuerwerk von überwiegend eigenen Songs aus ihrem ersten Album. Gewürzt war das Set von 18 Songs mit Klassikern wie Livin´on a bad Name (Bon Jovi) und Sweet child of mine (Guns n´Roses).
Überrascht haben sie ihre Fans im mittlerweile gut besuchten Backstage auch mit 2 neuen Songs aus ihrem kommenden Album, die Lust auf mehr machten. Leo "Goldenvoice" Lightning, das Goldkehlchen der Pussies präsentierte sich in Topform, unterstützt von einem herausragenden Taylor Riff an der Solo-Gitarre, Phil "Fastfinger" Fyre – die Gitarrenmaschine, Ray "The Brain" Danceflor – der Hammer am Bass und Tom "Smashing" Timber an den Drums, der die Jungs im richtigen Takt hielt. Was die Pussies da auf der Bühne abzogen, hat einfach Spaß und Laune gemacht. So soll es sein und so kommen alle gerne wieder.
Auch hier ist ein Interview längst überfällig und das nächste Album wird auch nicht mehr lange auf sich warten lassen.
Setlist:
She's a Vamp (Pussies on the Dancefloor/ Album 1)
Lick it up and smile (Pussies on the Dancefloor/ Album 1)
Livin' on a Bad Name (Cover)
Big Balls (Pussies on the Dancefloor/ Album 1)
Stupid old Child (Pussies on the Dancefloor/ Album 1)
Granny Panties (Pussies on the Dancefloor/ Album 1)
You spin me round (Cover / EP First Touch)
Edge of the dawn (Pussies on the Dancefloor/ Album 1)
Naughty Boy (Pussies on the Dancefloor/ Album 1)
For the rest of my life (Pussies on the Dancefloor/ Album 1)
Broke but Rich (Pussies on the Dancefloor/ NEU)
Sweet child of mine (Cover)
Cherry Pie (Pussies on the Dancefloor/ Album 1)
Where are my Pants? (Pussies on the Dancefloor/ Album 1)
Pussies take them everywhere (Pussies on the Dancefloor/ Album 1)
For the rest of my life 2 (Pussies on the Dancefloor/ NEU)
Heaven is a place (Cover / EP First Touch)
18. Pussies on the Dancefloor (Pussies on the Dancefloor/ Album