Da kommt etwas auf uns zu. Böse, fies und dreckig.
Wie ein räudiger Köter der nach allem und jedem schnappt.
Schon der Titel des sechsten Longplayers " We Only Came For The Violence" ist eine Ansage. Keine Zeit für nebensächliches, gleich direkt auf die zwölf. Fünf Jahre nach dem letzten Album Napalm Nights, ist es an der Zeit für Nocturnal Breed, mal wieder ordentlich Rabatz zu machen. Auf We Only Came For The Violence wird nicht einfach da weiter gemacht, wo man auf Napalm Nights aufgehört hat, man legt einfach noch ne riesen Schippe oben drauf.
Ihre einzigartige Mischung aus Black-, Thrash– und einer ordentlichen Portion klassischen Metal verleiht dem Album ein gewaltiges Suchtpotential. Teilweise auch etwas sperrig und schmerzhaft schraubt sich We Only Came For The Violence in die Gehörgänge und setzt sich gnadenlos fest. Fiese Riffs, sägenden Gitarren, ballernde Drums und einen S.A. Destroyer, der screamt als wenn es um sein Leben ginge, macht das ganze zu einem Inferno was seines gleichen sucht.
Deshalb gibt's von mir 8 von 10 Bängs.


Am 28.06.2019 erscheint das Teil, was amtlich mit einem Auftritt auf dem Under The Black Sun Festival gefeiert wird.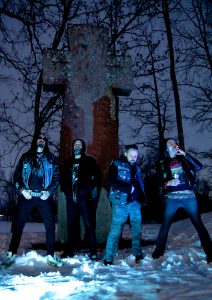 Band: NOCTURNAL BREED
Album: We Only Came For The Violence
Genre: Black/Thrash Metal
Label: Folter Records
Vertrieb: Alive
VÖ: 28.06.2019
Tracklist: 1. Iron Winter (Intro)
2. Choke on Blood
3. Nekrohagel
4. We Only Came for the Violence
5. Frozen to the Cross
6. Desecrator
7. Cannibalized by Fear (Intro)
8. Sharks of the Wehrmacht
9. Limbs of Gehenna
10. War-Metal Engine
11. Can't Hold Back the Night
12. Bless the Whore
13. A Million Miles of Trench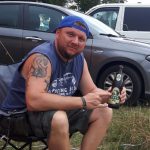 Christian
geb. 1977, Metalfan seit 1989, verheiratet, ein Sohn, Heavy, Death, Thrash und Hardcore. Der Fachmann, wenn es um Bands geht, die aus Ländern kommen, deren Namen die meisten nicht mal kennen.