Nach der erfolgreichen Premiere im letzten Jahr öffnet das Mission Ready Festival dieses Jahr seine Pforten erneut.
Am 06. Juli 2019 steigt die große Sause und das Who Is Who der Punk-, Ska- und Hardcore- Musikszene bittet zum Tanz.
Dabei geben sich Szenegrößen wie Agnostic Front, The Mighty Mighty Bosstones, Cro-Mags und Ignite die Klinke in die Hand.
Das "Ein Tages Festival" steigt auf dem Flugplatz Giebelstadt bei Würzburg. Perfekt mit allen Verkehrsmitteln zu erreichen. Auch wenn das Festival "nur" einen Tag geht, kann natürlich gezeltet werden.
Ein dicker Pluspunkt auf dem Mission Ready Festival sind die kurzen Wege zwischen Festivalgelände, Bühnen und Campingplatz.
Bühnen gibt es an der Zahl zwei – die "Punk Rock Stage" und die "Hardcore Stage".
Für Speis und Trank wird bestens gesorgt, natürlich auch Vegetarisch und Vegan.
Aktuelle Bandbestätigungen:
The Mighty Mighty Bosstoness / Agnostic Front / Millencolin / Ignite / Talco / Cro-Mags / Ryker`s / No Fun At All / Booze & Glory / The Rumjacks / Devil In Me / Harm`s Way / The Bar Stool Preachers / Bob Ross Effect / Risk It
Also Leute, auf ins Herz von Süddeutschland. Feiert, habt Spaß und genießt die Musik. Das Team vom Mission Ready freut sich auf euch. Wir vom Rockmagazine werden vor Ort berichten!

www.missionready-festival.com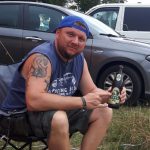 Christian
geb. 1977, Metalfan seit 1989, verheiratet, ein Sohn, Heavy, Death, Thrash und Hardcore. Der Fachmann, wenn es um Bands geht, die aus Ländern kommen, deren Namen die meisten nicht mal kennen.