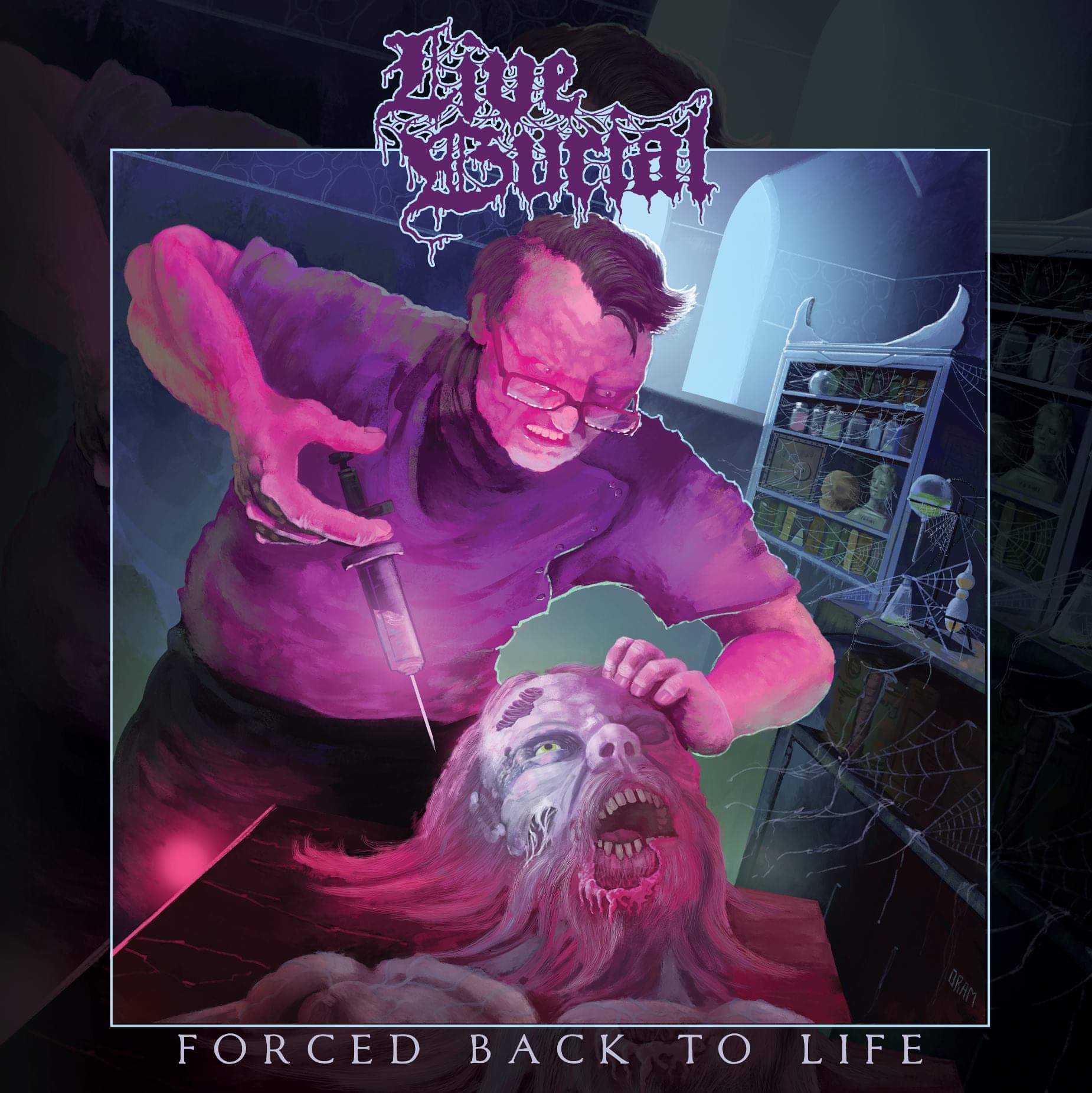 Bei den Worten Death Metal, Oldschool und England gehen bei mir sofort alle Alarmglocken an. Sofort hab ich dann Bands wie Bolt Thrower, Benediction, Cancer oder Carcass auf dem Schirm.
Und genau in dieses Beuteschema passen da Live Burial wie der buchstäbliche Arsch auf den Eimer.
Die Jungs aus Newcastle upon Tyne schlossen sich 2012 zusammen, um ordentlich Lärm im Stile von Asphyx und Konsorten zu machen. Nach zwei, in Eigenregie, veröffentlichten EP`s  folgte dann das erste Album Forced Back To Life über Dunkelheit Produktionen.
Nach den ersten Umdrehungen der Scheibe, war klar wo die Reise hingeht. Hier werden keine Drachen gestreichelt oder Einhörner gekuschelt, sondern wie man es bei einer Death Metal Band annimmt, Splattertexte, Blut und Verderben. Quasi Drache frisst Einhorn, mit Haut und Haaren.
Der Sound auf Forced Back To Life ist Death Metal typisch. Mal schleppt man sich schwer wie ein alter Panzer vorwärts, um dann richtig Gas zu geben und mit aggressiven Blastbeats nach vorne zu preschen. Andererseits gibt`s gleich eins auf die Glocke, ohne Rücksicht auf Verluste. Die acht Songs knallen ungemein. Da wird nix verschönert oder weichgespült, Death Metal wie er sein sollte. Hart, extrem, brutal!!!
Fazit: Forced Back To Life ist ein Album was jedem Death Metal Fan Spaß macht. Tief gestimmte Gitarren, pumpender Bass, Doublebass Attacken und ein Sänger der mich manchmal an Martin van Drunen erinnert.
Live Burial fügen sich nahtlos in die Reihe der oben genannten Bands ein und haben mit Forced Back To Life ein qualitativ hochwertiges Album am Start.
8 von 10 Bängs

Tracks:
Screams From The Morgue
Forced Back To Life
Age Of Oblivion
Sleep Paralysis
Beyond Death
Mocata`s Revenge
Hung Above The Meat Grinder
Enter The Chapel Of Splater
livebureal.bandcamp.com     www.dunkelheit.cc
Band:
Jamie Brown – Vocals / Richard Codling – Guitars  / Lee Anderson – Bass / Robert Hindmarsh – Guitars / Matthew Henderson – Drums
Schlagwörter:
Benediction
,
Bolt Thrower
,
Cancer
,
Carcass
,
Death Metal
,
Dunkelheit Produktionen
,
England
,
Forced Back To Life
,
Live Burial
,
Martin Van Drunen
,
oldschool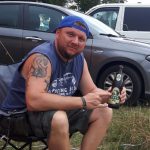 Christian
geb. 1977, Metalfan seit 1989, verheiratet, ein Sohn, Heavy, Death, Thrash und Hardcore. Der Fachmann, wenn es um Bands geht, die aus Ländern kommen, deren Namen die meisten nicht mal kennen.