Hollywood Vampires hieß in den 1970ern ein legendärer Trinkclub mit prominenten Mitgliedern wie Cooper, Jimi Hendrix, John Lennon, Keith Moon, Jim Morrison und Mickey Dolenz. Um dem Club beizutreten, musste man nur alle anderen unter den Tisch trinken. Viele von ihnen sind bereits gestorben. An sie wollte man erinnern, als sich Rock Ikone Alice Cooper, Hollywood-Superstar Johnny Depp und Aerosmith Legende Joe Perry 2015 zu diesem Musikprojekt zusammenschlossen. Waren auf dem Debutalbum noch hauptsächlich gecoverte Klassiker zu finden, setzen die Vollblutmusiker mit dem am 21.06.19 veröffentlichen zweiten Album Rise  vermehrt auf neue Eigenkompositionen. Ihrer ursprünglichen Mission sind sie aber mit drei Cover-Songs treu geblieben. Johnny Depp erfüllte sich mit dem Song Heroes selbst einen Wunsch und präsentiert eine unglaublich intensive, intime und emotionale Version dieses schwer zu singenden Bowie Klassikers. Joe Perry steuert mit People who died von der Jim Caroll Band und Johnny Thunders "You Can´t Put Your Arms Around A Memory" zwei weitere Tribute-Songs bei.
Insgesamt finden sich 16 Stücke auf dem neuen Album. Neben drei kurzen Überleitungen (How The Glass Fell, The Wrong Bandage und A Pitiful Beauty) gibt es zehn zeitlose Songs voll mit rohem, ehrlichen, puren Rock und Texten, die es in sich haben.
Anspieltipps:
– I Want My Now siebenminütiger Opener mit gewaltigen Drums, peitschenden Gitarrenriffs und Honky Tonk Piano
– Who´s Laughing Now rockige Singleauskopplung
– The Boogieman Surprise solide Blues-Rock Nummer
– We Gotta Rise Ironischer Seitenhieb auf die America-First Doktrin im musikalischen Gewand einer Fußballhymne. "Please Welcome the President of the United States. President Alice Cooper". "We gotta rise, let's rise, above the lies."
– Mr. Spider gruselige Rock Hymne, wie man sie von Cooper kennt: "Darkness for me is all I know… I'm gonna eat you alive".
– Congratulations Cooper, Perry, Hendriksen und Depp sorgen mit eingesprochenen Gedanken zu Leben und Tod für Gänsehautmomente im 6/8 Takt!
Die Allstars zeigen sich 2019 in Bestform und präsentieren ein sattes Rockalbum, das höllischen Spaß macht und förmlich darum bettelt, live vorgetragen zu werden.
Deshalb gibt es von mir 8 von 10 Bängs!

Produziert wurde das Album von Co-Songwriter Tommy Hendriksen und den Hollywood Vampires.
Das sagen Alice Cooper und Johnny Depp zum Album:
Alice Cooper: "We´re not chasing charts. If we get a hit, the charts came to us."
Johnny Depp: "I cannot sing." Alice Cooper: "You did Sweeny Todd!"
Johnny Depp: "Working on the album was freedom. We had no outside influence."
Alice Cooper: "Smell is the closest thing to emotional connection. We tried to smell like David (Bowie)."
Tracklist:
1. I Want My Now
2. Good People Are Hard To Find
3. Who's Laughing Now
4. How The Glass Fell 0:31
5. The Boogieman Surprise
6. Welcome To Bushwackers (feat. Jeff Beck and John Waters)
7. The Wrong Bandage
8. You Can't Put Your Arms Around A Memory
9. Git From Round Me
10. Heroes
11. A Pitiful Beauty
12. New Threat
13. Mr. Spider
14. We Gotta Rise
15. People Who Died
16. Congratulations
Spielzeit 56:46 Minuten
Musiker:
Alice Cooper – Gesang
Joe Perry – Gitarre & Gesang
Johnny Depp – Gitarre, Gesang & Sounddesign
Tommy Hendriksen – Bass, Gesang, Gitarre, Keyboards, Sounddesign & Percussion
Gastmusiker:
Glen Sobel – Schlagzeug
Chris Trujillo – Percussion
Buck Johnson – Keyboards, Cembalo, Gitarre & Gesang
Sheryl Cooper – Gesang
Jamie Muhoberac – Keyboards & Piano
Chris Wyse – Bass & Gesang
Jeff Beck – Gitarre
John Waters – Gesang
Tommy Denander – Gitarre & Keyboards
Jeremy Rubolino – Horns
Label: earMusic/Edel
Homepage: https://www.hollywoodvampires.com
Facebook: https://www.facebook.com/hollywoodvampires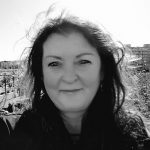 Karina
Karina ist für uns an Rhein und Ruhr unterwegs. Sie hört neben Metal auch Irish Folk Punk, Deutsch- und Mittelalterrock. Für gute Musik ist ihr kein Weg zu weit.