Das härteste Event zum Reeperbahn Festival:
2 Tage Konzerte, Meet & Greets, Workshops, Expertenrunden und mehr!
Mit Critical Mess, Kaizaa, Savage Messiah, Nothgard, God Dethroned, Overkill, Tragedian, Dymytry, Gloryful, Iron Savior, The Vintage Caravan, Hämatom und jede Menge Begleitprogramm!
Die Markthalle gehört zu den wichtigsten Konzertorten der Stadt und bietet etliche Räumlichkeiten für die vielen Programmpunkte der Hamburg Metal Dayz. Sie liegt fußläufig vom Hauptbahnhof entfernt und ist einfach zu erreichen.
Bei den Hamburg Metal Dayz finden die meisten Konzerte im großen Saal statt. Hier befindet sich die größte Bühne der Markthalle mit guter Sicht, gutem Sound und mehreren Bars für 1000 Fans.
Im Marx befindet sich die etwas kleinere Bühne, auf der in der Regel das Rahmenprogramm (Panels, Workshops usw.) stattfindet. Bis zu 200 Leute passen hier rein, sodass die Nähe zwischen Künstler und Fan besonders gegeben ist.
Im Vorraum/Foyer der Markthalle gibt es bei den Metal Dayz neben der großen Bar und einigen Ständen Gelegenheit, die Bands bei Meet & Greets zu treffen.
Tickets gibt es ab 39,95 € hier.
Schlagwörter:
Critical Mess
,
Dymytry
,
Gloryful
,
God Dethroned
,
Hämatom
,
Iron Savior
,
Kaizaa
,
Nothgard
,
Overkill
,
Reeperbahn Festival
,
Savage Messiah
,
The Vintage Caravan
,
Tragedian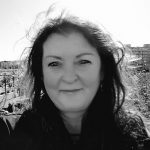 Karina
Karina ist für uns an Rhein und Ruhr unterwegs. Sie hört neben Metal auch Irish Folk Punk, Deutsch- und Mittelalterrock. Für gute Musik ist ihr kein Weg zu weit.