Freude an der Arbeit lässt das Werk trefflich geraten. – Aristoteles –
Man könnte fast meinen die vier Griechen hätten sich dieses Zitat, ihres großen Gelehrten zu Herzen genommen. Broken Lost Mistakes ist nämlich sehr trefflich geraten.
Laut Band Info, Melodic Death Metal. Das trifft es auch zu hundert Prozent. Nach der selbst betitelten EP 2015, brachten Fragments Of Despair nun Broken Lost Mistakes heraus. Feinster Death Metal der alten Schule. Harte Riffs, brutale Screams aber auch sehr gelungene Melodien. Man könnte teilweise meinen Death trifft auf In Flames. Sehr einprägsam ist auch die Stimme des Sängers und Gitarristen Romulus. Aber auch Steilos/ Gitarre, Jason/ Bass und Sevan/ Drums brauchen sich nicht zu verstecken. Sie machen alle einen exzellenten Job.
Das Album weiß von Anfang an zu begeistern und schwächelt keineswegs. Die Songs bohren sich sofort ins Ohr. Besonders Broken Lost And Mistakes ist der Oberhammer. So eine richtige Live Mitsing- Hymne. Ich hab da beim ersten mal hören, sofort ne amtliche Erpelkutte ( Gänsehaut ) bekommen. Diese Mischung aus brachial und Melodie zeiht sich durch das ganze Album wie ein roter Faden. Man weiß auch mit etwas ruhigeren Tönen ( Ocean Of Tears ) zu überzeugen, um dann kurz danach wieder amtlich Kleinholz herzustellen.
Mein Fazit wird da keine Überraschungen hervor bringen. Die Scheibe ist mal wieder was für alle Death Metal Fans und die, die es mal werden wollen. Alle anderen dürfen gerne wieder alle Ohren riskieren, die sie haben.
Von mir, für diese treffliche Arbeit 8 von 10 Bängs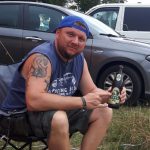 Christian
geb. 1977, Metalfan seit 1989, verheiratet, ein Sohn, Heavy, Death, Thrash und Hardcore. Der Fachmann, wenn es um Bands geht, die aus Ländern kommen, deren Namen die meisten nicht mal kennen.