Die finnischen Metal-Superstars CHILDREN OF BODOM werden ihr zehntes Studioalbum, mit dem Titel »Hexed«, am 08. März 2019 via Nuclear Blast Records veröffentlichen.
Heute präsentiert die Band nun das offizielle Musikvideo zur ersten digitalen Single "Under Grass and Clover".
COB Frotmann Alexi Laiho kommentiert:
"'Under Grass And Clover' ist der Sound von COB "on fire" und ist seit seiner Entstehung mein Lieblingsstück der Platte. Er ist schnell, melodisch, heavy und düster, aber dennoch kurz und kompakt. Jemand sagte mir, es sei bisschen wie oldschool Dimmu Borgier und AWK, was sich für mich verdammt cool anhört. Wir müssen also etwas richtig gemacht haben."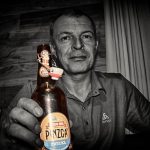 Uli
Seit den 90er Jahren journalistisch unterwegs. Sehr schlechter Schlagzeuger mit deutlichen Rechtschreibschwächen. Mitbegründer der legendären Punkrockband "The Ketchup Boys", welche 1989 ihren einzigen Auftritt hatte. Spricht mehrere Sprachen, kann einhändig Fahrrad fahren und mag Musik.