Ladies and Gentleman, Omas und Opas, Freunde der unromantischen Tanzmusik!
Es ist soweit! Ash Return knallen uns heute ihren ersten Song vor den Latz. Knallen im wahrsten Sinne des Wortes.
Nach den ersten Durchläufen geht Time Is The Enemy richtig gut ab. Hardcore meets Maiden, könnte man sagen. Deswegen bestimmt der heutige VÖ-Termin, am Geburtstag von Herrn D aus E. Mit stillstehen ist da nicht viel, man fühlt sich gleich bewegt. 
Bestimmt fragen sich jetzt einige wer Ash Return überhaupt ist?
Ash Return ist seit 2019 aktiv und besteht aus ehemaligen Mitgliedern der Hardcoreband Miozän. Die da wären: Gerrit/Drums, Kniffel/Guitar, Outso/Guitar, Tank/Bass. Um die Band zu vervollständigen holten sie Johnny, Sänger der Metalband Gloryful mit ins Boot.
Wie gesagt, Time Is The Enemy geht gleich gut in die Knochen und rüttelt einen erst mal ordentlich durch.
Amtlich krachende Gitarren, pumpender Bass und die markante Stimme von Johnny machen die Sache rund.
Ab heute gibt`s den Song auf den bekannten Download Portalen wie Spotify und iTunes. Oder ihr schaut mal auf der Facebookseite der Jungs vorbei.
https://www.facebook.com/ashreturnhc/
Ich bin mal wieder begeistert und gespannt auf mehr, deshalb 8 von 10 Bängs

Einen Live Termin gibt`s auch schon, am 23.11.2019 im Akku in Immenhausen.
Hier nochmal ein paar Links zum Song:
SPOTIFY:
https://open.spotify.com/album/75Bvby5OB3SxBX7FbakPmI
iTUNES:
http://itunes.apple.com/album/id1475084685?ls=1&app=itunes
Apple Music:
http://itunes.apple.com/album/id/1475084685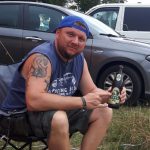 Christian
geb. 1977, Metalfan seit 1989, verheiratet, ein Sohn, Heavy, Death, Thrash und Hardcore. Der Fachmann, wenn es um Bands geht, die aus Ländern kommen, deren Namen die meisten nicht mal kennen.